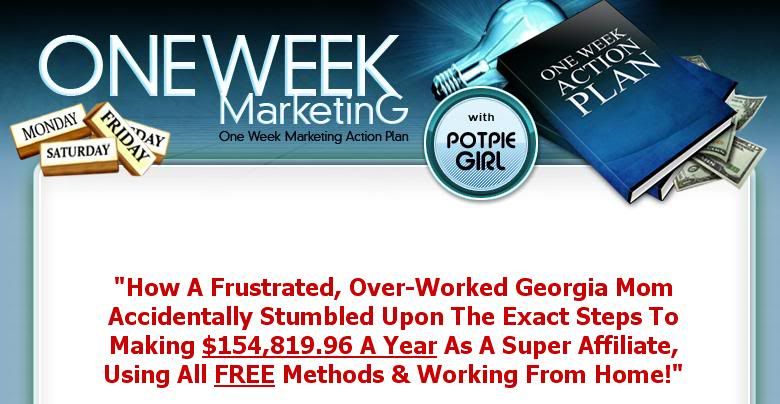 Reading time: 4 minutes
Is One Week Marketing a scam? Does One Week Marketing really work? Who is this Pot Pie Girl and what is her One Week Marketing Action Plan is about?… You may be having these questions in your mind right now, but not in a few minutes! In this One Week Marketing review, the content of this system will be reviewed and discussed so that you can have a clear idea what One Week Marketing is about and make the best buying decision. If you have no idea what is this One Week Marketing product, you can visit its official website HERE.
I recommend you read all parts of the review thoroughly, but if you are in short of time, I would suggest you
read the "Quick facts about One Week Marketing" and "The nature of One Week Marketing parts".
Quick facts about One Week Marketing
Name: One Week Marketing (so called One Week Marketing
Action Plan)
Website: www.oneweekmarketing.com
Creator: Jennifer Ledbetter (Pot Pie Girl)
Price: $47
The One Week Marketing package of Pot Pie girl is her own marketing action plan and includes 5 ebooks:
- The One Week Marketing guidebook
- A conversation with Nick
- One Week Action Plan
- One Week Marketing Mind Maps
- One Week Marketing Checklists
Overall rating: 9/10 – This is truly MUST READ materials for new internet marketers, especially if you are doing, or plan to do article marketing. The One Week Marketing Guide in my opinion presents the most successful internet marketing model out there. The action plan, in particular, outlines step-by-step what you have to do every day for 7 days to launch a profitable marketing campaign. The guide offers straight forward information, with a real-life case study (A conversation with Nick), which makes it so easy for anyone to follow the system. It is like a one-on-one coaching session with every step described in great details and every possible little problem you may run into getting answered.
Besides, Pot Pie Girl offers for FREE the first 18 pages of One Week Marketing. You can either download these first 18 pages when visiting the One Week Marketing official website by entering your name and email address and it will be sent to you by email.
Or you can read it STRAIGHT from here: 18 Pages Sneak Peek to One Week Marketing course.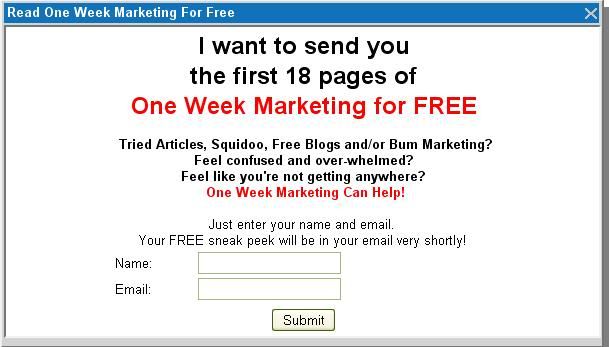 Newly updated!
Pot Pie Girl has updated her products and includes a premium version of One Week Marketing" now. The premium version, in addition to the original One Week Marketing Action Plan, includes a lot more strategic and practical information for starting internet marketers such as:
- A 70+ page comprehensive guide about keyword research
My personal note: I'm coaching some persons who want to learn how to earn a living online by internet marketing right now, and I cannot stress this point enough to my students: the crucial point deciding the success level of your campaigns is keyword research. It can take time and effort to find the right keyword to build your campaign around, but it's totally worth it. So, take this step seriously and you will never regret it!
- A guide about Squidoo for Squidoo newbies
- "One Week Marketing" Plan B – how to protect your content through changes of Squidoo policy or any
other free websites.
- One Week Marketing Expansion guide: this guide is used when you are in the middle of your campaigns and run into problems (search engine index problems for example).
- A traffic guide: how to get 1000 visitors in less than 30 days.
And last but not least: Pot Pie Girl will show the One Week Marketing premium version's customers how to get indexed quickly by Google, using her own blogs. This is extremely valuable as all of her blogs are well established, have high page ranks and huge traffic.
About the author – Pot Pie Girl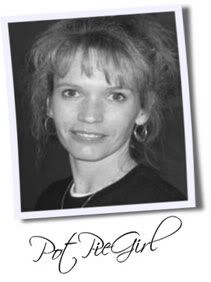 I have been a fan of bum marketing for years and have been subscribed to Travis Sago's newsletters – the creator of the bum marketing concept. If you don't know anything about Bum Marketing method, go to Bum marketing method website for a quick view, it's totally FREE. You will use this method A LOT in your internet marketing journey. I got to know about Pot Pie Girl through these newsletters of Travis and he has been praising her work with hype for a while.
I got really curious about her and after Travis sent me the link to one Youtube video Pot Pie Girl made about the easy way to find long tail keywords, I was sold. You can check out this video of hers below, I really like the way she explains things and also her quick wit.
Pot Pie Girl's real name is Jennifer Ledbetter, a very active and famous member of social networks and also the creator of a book named "Squidoo profit system". She is unique and after reading One Week Marketing, I have become a real fan of hers.
The nature of One Week Marketing
The core idea of One Week Marketing is using article marketing and creating your own Web 2.0 network to promote affiliate products. This kind of "matrix" ensures you a long term profits and when you finish setting it up, the system will give you profits months, even years to come on autopilot.
Pot Pie Girl's One Week Marketing guide takes your hand through each step of the creation process of a marketing campaign within 7 days. After the course you should be able to create a complete and profitable marketing campaign within 7 days and on the 8th day move on to the next project.
One Week Marketing is NOT a "get-rich-quick scheme", it requires work and commitment from you. But this system really pays off and have been used by all top internet marketers out there. The thing I like about One Week Marketing is that all of the tools you need are FREE. You can buy a domain name and hosting and make your landing website but it's optional.

The Main One Week Marketing Guide
This 65 page main guide can be used as a reference while you go through all of the remaining ebooks in the One Week Marketing course of Pot Pie Girl.
In this guide you can find the introduction and explanation for the content of the course and the techniques Pot Pie Girl use for this system. This guide book outlines and explains in great details the tactics you will be using each day for 7 days. It doesn't only supply you with knowledge and tools needed for an article marketer, but also shows you the right mindset needed to be successful on your online marketing career.

The One Week Marketing guidebook shows you a great deal about how to take advantage of Squidoo and article submissions to Ezinearticles.com to the fullest for your marketing campaign. Only in this main guide alone I have learned some tactics about keyword research and Squidoo Lenses that are so powerful and worth a GOLDMINE to me!
A Conversation With Nick
This report (which is a LONG 139 pages one by the way) is an archive of private messages between Pot Pie Girl and Nick – her "Squidoo guinea pig" (his screenname is Nick_T).
They were both members of a discussion forum. She showed Nick really step-by-step, from how to do keyword research, how to name his Squidoo lens' name, write a killing article, etc. Pot Pie Girl also includes here some of her lenses for Nick to know how her niche lenses look like. The first lens Nick made with Pot Pie Girl was about golf (with the keyword cure my slice).
You know the feeling when you have a tricky problem and you go on to a discussion board, hoping to find a thread from someone who also asked the same question before and got it solved? That's the exact feeling I have when reading A Conversation with Nick.
It's like Pot Pie Girl is with you in EVERY step you make in your One Week Marketing campaign and solve EVERY possible little problem you may run into. Nick also included his daily ClickBank screenshot to Pot Pie Girl to monitor his progress. After one week of coaching he made 3 sales for his cure slice niche, not breathtaking but quite impressive for his small niche and for a one-week old site (I have also included here the screenshot of his Clickbank account after 7 days of his One Week Marketing campaign. And this guy was such a newbie!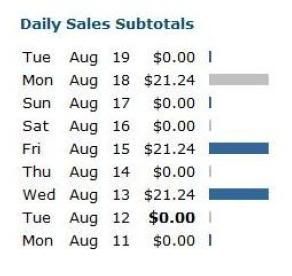 I think this "take a live example" approach of Pot Pie Girl is just brilliant and effective. I have to remember this method if I make an e-course myself later some time
One Week Marketing Action Plan and Check List
These GREAT documents can be printed out to be used every day and for each One Week Marketing campaign you create.
One Week Marketing Action Plan
This is a plan you can print out to use throughout your one week marketing plan. Pot Pie Girl shows exact daily task you have to do to launch your successful campaign. I think if you stick to this daily task guideline, it's impossible to fail in any one week marketing campaign you launch. Stick this action plan on the wall or anywhere noticeable to you, this plan is used by Pot Pie Girl herself, by sticking to this plan, you will not miss out even the smallest step in your campaign. I wish all systems out there have a clear and thorough action plan like this, everyone's life would be SO MUCH easier.
One Week Marketing Check List
This is another useful tool that will make your campaign much more organized and effective. You can print out this checklist for EACH campaign you create and use it through the campaign to make notes on important information, for example chosen keywords, log in information, etc., as well as track the progress of your campaign and make sure you have completed all the steps laid out in the Action Plan.
One Week Marketing Mind Maps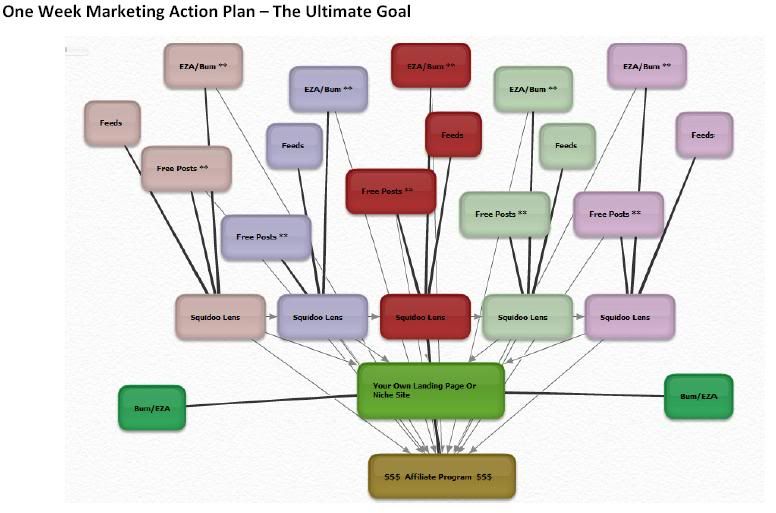 Funnily, this is the part I love the most in One Week Marketing course. I like to translate everything into a philosophy, a system that is expandable and scalable. Pot Pie Girl just knows the exact right thing to give to her readers. In this part of the course, the whole one week marketing system is translated into graphic form that readers can easily get a hang of how to start with the basics and then expand and scale the campaign for maximum profits.
In conclusion
I have a very good feeling reading her e-books. They are not some dry text books that only gives information, One Week Marketing actually made me feel like Pot Pie Girl was in front of me, talking to me and gave me personalized coaching. I can feel clearly her personality in her writing and her passion to help people achieve their income goal. Pot Pie Girl especially emphasizes the importance of article marketing for an internet marketer. I totally agree with her in this respect.
If you have never heard of article marketing and want to give it a try, or you are already doing for a while, whatever your level is, One Week Marketing is for you. After this course, you should be able to create and launch a marketing campaign within 7 days. And this campaign will run on autopilot after that and generates passive income for you.
In one sentence, One Week Marketing is the most trusted and successful marketing model, an ensured way of generating passive incomes and all in all a BRILLIANT work of Pot Pie Girl. I would give it 9/10 for the great information and
So that's my full review for One Week Marketing course. I hope you have found it helpful. You can CLICK HERE to visit One Week Marketing website. Just follow Pot Pie Girl's Action Plan, be consistent and you will see it's a fail-proof system. Good luck and happy article marketing!